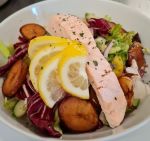 Great Food, Great Prices
We offer a superb selection of food - ranging from traditional pub dishes to corporate hospitality to tempting meals that could grace any table...

'Specials' Boards
Some dishes change daily others change weekly
- be sure to check out our Specials Boards when you come to dine with us

Menus to suit everyone
From baguettes to traditional, home-made lasagne to vegetarian Walnut pancake - we cater for all tastes
Sunday Lunch is served from 12 to 8pm

Friendly, cosy atmosphere
The Coach and Horses has been rated as one of the top ten Real Ale pubs in the UK by TripAdvisor.com
Early Evening Menu
Served Sunday to Thursday only - up to 7:30pm
Set price: £9.50
To Start:

Chef's soup of the day - served with crusty bread
Deep fried crispy whitebait - served with salad leaves and granary bread.
Italienne style salad - with tomatoes red onion mozzarella & olives with a basil vinaigrette
For main course choose from:
Traditional fish and chips: Fillet of Cod in chefs special beer batter  served with handcut chips and mushy peas.
Walnut pancake filled with spinach and mushrooms served with hand cut chips and salad. 
Chef's pie of the week served with hand cut chips or creamed potatoes.
Ask our team for details of this week's special pie.
Salad of the day: Please ask our staff for today's selection.  
Click here for our other menus
Prices are correct at time of publication on this website but may be changed on the premises without notice. Dishes are subject to availability.