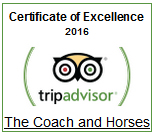 Welcome
The Coach and Horses is an attractive country inn serving scrumptious food and providing high quality, 4 star, bed and breakfast accommodation. The Coach and Horses is located in the picturesque village of Brixworth, Northants
Built from golden Northamptonshire Stone, the Coach and Horses dates back to the 1700s and was renowned for the fastest change of horses in the days of the stagecoach.
Most of the original features of this traditional country pub have been retained and the Coach and Horses is extremely highly rated for its food, hospitality, comfort and warm welcome.
Ideally located for visits to Earl Spencer's Althorp House estate, Lamport Hall, Boughton House, Cottesbrooke Hall & Gardens and Stanford Hall, not to mention the local Saxon church dating from around AD 680. Why not visit us for a tasty meal after a day's fishing or sailing at the nearby Pitsford Water reservoir. Our country pub food and four star bed and breakfast accommodation are second to none in the Brixworth area.
The Coach and Horses has been rated as one of the top ten real ale pubs in the UK by tripadvisor.com. Reviews such as "Quaint, Convenient and Loveable", "Hard to beat for value, comfort and style - a perfect place to stay" are just a few of the comments which can be found at www.tripadvisor.com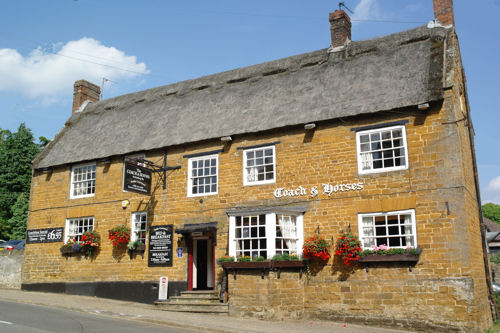 Opening Hours
Monday - Saturday 11:30 - 14:30 and 16:00 until closing
Breakfast served 09:00 - 14:00
Food served 12:00 - 14:00 and 16:00 - 20:00
Takeaway service from 16:00 to 19:30 every evening
Sunday - OPEN ALL DAY!
Breakfast served 09:00 - 12:00
Food served 12:00 - 18:00, Roasts served whilst meats lasts
Contact Us
Call us on 01604 880 329 to book food or accommodation