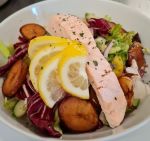 Great Food, Great Prices
We offer a superb selection of food - ranging from traditional pub dishes to corporate hospitality to tempting meals that could grace any table...

'Specials' Boards
Some dishes change daily others change weekly
- be sure to check out our Specials Boards when you come to dine with us

Menus to suit everyone
From baguettes to traditional, home-made lasagne to vegetarian Walnut pancake - we cater for all tastes
Sunday Lunch is served from 12 to 6pm

Friendly, cosy atmosphere
The Coach and Horses has been rated as one of the top ten Real Ale pubs in the UK by TripAdvisor.com
A selection from our extensive menu
(prices may change and are charged at the price in the pub)
STARTERS
from

£6.95

All the above are served with fresh granary bread or crusty white, and a crispy side garnish.
CHEF'S SPECIALS BOARD (prices
from

£9.50)

(this is an example of dishes which regularly feature on our Specials Board which may vary daily. Choices are subject to availability at any given time)
FISH MENU
A full range of fresh fish dishes always available, menu changes daily.
FROM THE CHAR GRILL
from

£12.50
SANDWICHES
from

£6.95

A full range of sandwiches served on freshly baked crusty white or granary bread, all served with crispy leaves, coleslaw, and hand cut chips.
BAGUETTES
from

£8.95
HOME MADE PIES (all topped with buttered short crust pastry)
from

£11.95
SPECIALS BOARD
We also have a specials board which can be viewed when you visit us!
SUNDAY LUNCH (one, two or three courses)
from

£11.95 - Served 12-8pm

What better way to spend a Sunday lunch than with a traditional Sunday roast!
Prime sirloin of beef - or choose from 2 other roasts of the day. Our meat is locally sourced as well as our seasonal vegetables.
FOR THAT SPECIAL OCCASION
Tell us your personal requirements and we will be pleased to cook it for you. (48 hours notice is required)
Prices are correct at time of publication on this website but may be changed on the premises without notice. Dishes are subject to availability.