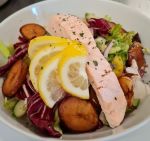 Great Food, Great Prices
We offer a superb selection of food - ranging from traditional pub dishes to corporate hospitality to tempting meals that could grace any table...

Quality Accommodation
Spacious, luxury, 4 star bed and breakfast accommodation in our stable courtyard situated to the rear of our quaint inn...

Ideal for days out at Althorp
The Coach and Horses is situated in the heart of the Northamptonshire countryside - ideal for visiting many attractions such as Althorp House, Lamport and Silverstone races...

Friendly, cosy atmosphere
The Coach and Horses has been rated as one of the top ten Real Ale pubs in the UK by TripAdvisor.com
What our customers have said...
Contact Us
Call us on 01604 880 329 to book food or accommodation or for any enquiries please feel free to e-mail info@coachandhorsesbrixworth.co.uk for more information.